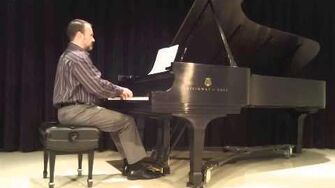 The entire eight measures of this piece have only one melodic line and no harmonies. Students can practice staying legato even when the melody passes between the hands. Articulation takes an important role, giving the piece its perky character. The subtle dynamic changes also add interest. Teachers should be sure to explain how to play accents as well as
tenutos
.
Publisher Information
Edit
Mikrokosmos is available through Boosey and Hawkes.
https://boosey.com/shop/prod/B-la-Bart-k-Mikrokosmos-2-Definitive-Edition-Piano-English-French-German-Hungarian/675349
Caroline Krause, Iowa Center for Research by Undergraduates Fellow
Ad blocker interference detected!
Wikia is a free-to-use site that makes money from advertising. We have a modified experience for viewers using ad blockers

Wikia is not accessible if you've made further modifications. Remove the custom ad blocker rule(s) and the page will load as expected.