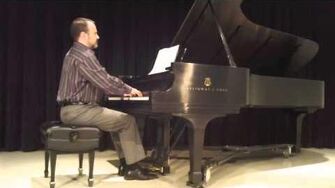 "Meditation" is in dorian mode, differentiating it from many of the other pieces in Mikrokosmos. A rolling, broken chord accompaniment nicely sets a foundation for the gentle melody, which Bartók inverts partway through the piece. Teachers may find worth in explaining the compositional techniques used here, also including reversal of the accompaniment and melodic roles of both hands in the final measures. Students will discover the exacting dynamic markings to be helpful, especially when they give specific details regarding balance.   
Publisher Information
Edit
Mikrokosmos is available through Boosey and Hawkes.
https://boosey.com/shop/prod/B-la-Bart-k-Mikrokosmos-2-Definitive-Edition-Piano-English-French-German-Hungarian/675349
Caroline Krause, Iowa Center for Research by Undergraduates Fellow
Ad blocker interference detected!
Wikia is a free-to-use site that makes money from advertising. We have a modified experience for viewers using ad blockers

Wikia is not accessible if you've made further modifications. Remove the custom ad blocker rule(s) and the page will load as expected.