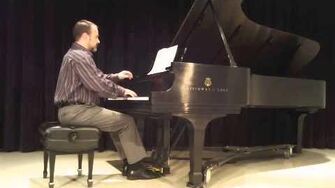 This may be the most dissonant minuet studied by one's beginning students. In no particular mode, the key signature simply has one C-sharp. Students will encounter parallel motion sections as well as moments of contrary motion requiring a lot of coordination. Dynamics also play a large role, as does articulation. Students will be kept busy with the many facets of this piece.
Publisher Information
Edit
Mikrokosmos is available through Boosey and Hawkes.
https://boosey.com/shop/prod/B-la-Bart-k-Mikrokosmos-2-Definitive-Edition-Piano-English-French-German-Hungarian/675349
Caroline Krause, Iowa Center for Research by Undergraduates Fellow
Ad blocker interference detected!
Wikia is a free-to-use site that makes money from advertising. We have a modified experience for viewers using ad blockers

Wikia is not accessible if you've made further modifications. Remove the custom ad blocker rule(s) and the page will load as expected.