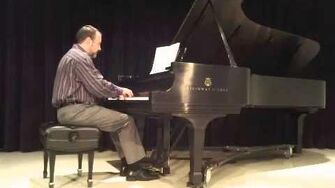 This is a wonderful piece for introducing students to a lot of chromatics. Different hand positions, as well as parallel and contrary motion sections, are explored. This is also a good chance for increasing the speed of the learning process by noting repeated patterns. Additionally, the dynamics that Bartók includes follow the contour of the melody, which may also be a new concept for younger students. One needs to keep the pulse very steady to give a compelling performance.
Publisher Information
Edit
Mikrokosmos is available through Boosey and Hawkes.
https://boosey.com/shop/prod/B-la-Bart-k-Mikrokosmos-2-Definitive-Edition-Piano-English-French-German-Hungarian/675349
Caroline Krause, Iowa Center for Research by Undergraduates Fellow
Ad blocker interference detected!
Wikia is a free-to-use site that makes money from advertising. We have a modified experience for viewers using ad blockers

Wikia is not accessible if you've made further modifications. Remove the custom ad blocker rule(s) and the page will load as expected.