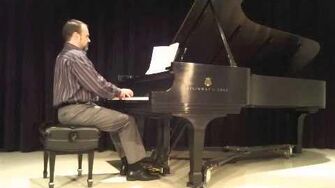 As one of the later selections in the second volume of Mikrokosmos, "Major and Minor" offers students considerable challenges. The two most notable aspects are Bartók's simultaneous use of major and minor keys as well as the specific and demanding articulations. Being aware of the mode of each hand is necessary for keeping track of the numerous accidentals. The sforzandos, accents, and complicated slurs also increase the difficulty.
Publisher Information
Edit
Mikrokosmos is available through Boosey and Hawkes.
https://boosey.com/shop/prod/B-la-Bart-k-Mikrokosmos-2-Definitive-Edition-Piano-English-French-German-Hungarian/675349
Caroline Krause, Iowa Center for Research by Undergraduates Fellow
Ad blocker interference detected!
Wikia is a free-to-use site that makes money from advertising. We have a modified experience for viewers using ad blockers

Wikia is not accessible if you've made further modifications. Remove the custom ad blocker rule(s) and the page will load as expected.