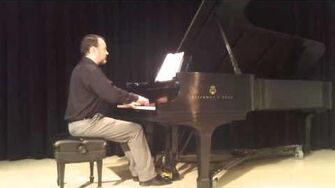 Cheerful and vibrant, this is a great piece for advancing pianists. They will have to deal with aspects such as voicing, articulation, dynamics, and phrasing. The right hand generally has the melody, and bringing out the top line is imperative. Some students may have difficulty with maintaining clarity in the passages of thirds as well as in the frequent sixteenth notes.
Caroline Krause, Iowa Center for Research by Undergraduates Fellow
Ad blocker interference detected!
Wikia is a free-to-use site that makes money from advertising. We have a modified experience for viewers using ad blockers

Wikia is not accessible if you've made further modifications. Remove the custom ad blocker rule(s) and the page will load as expected.