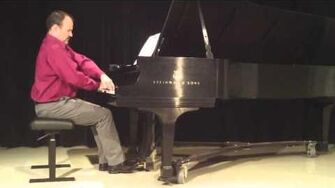 Fluid and glassy, this piece requires a lot of attention regarding the articulation and shaping. Slur markings are used continuously; students should be especially aware of this when the hands cross over one another. Following the rising and falling motion of each phrase will help create a nice shape. The pedaling is quite simple; it is held down and infrequently changes.
Composer/Publisher Information
Edit
Complete bio can be found at http://www.frederickharrismusic.com/FHMCsite/capricorn?para=showPage&docId=authors&section=**
Through the Windowpane is available through The Frederick Harris Music Co., Limited, 2005
Caroline Krause, Iowa Center for Research by Undergraduates Fellow
Ad blocker interference detected!
Wikia is a free-to-use site that makes money from advertising. We have a modified experience for viewers using ad blockers

Wikia is not accessible if you've made further modifications. Remove the custom ad blocker rule(s) and the page will load as expected.