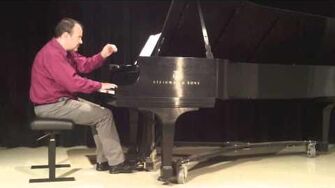 This piece emulates the gentle, and yet sometimes forceful, pitter-patter of rain on an umbrella. Being crisp with the staccatos will help capture this idea. When the dynamics increase, students should make sure that the mood grows in intensity as well. Teachers may want to explain the concept of a whole-tone scale, which is used throughout. Understanding this type of scale may make the numerous accidentals easier for students. One should be mindful of not slowing down during the hand crossings at the end of the piece.
Composer/Publisher Information
Edit
Complete bio can be found at http://www.frederickharrismusic.com/FHMCsite/capricorn?para=showPage&docId=authors&section=**
Through the Windowpane is available through The Frederick Harris Music Co., Limited, 2005
Caroline Krause, Iowa Center for Research by Undergraduates Fellow
Ad blocker interference detected!
Wikia is a free-to-use site that makes money from advertising. We have a modified experience for viewers using ad blockers

Wikia is not accessible if you've made further modifications. Remove the custom ad blocker rule(s) and the page will load as expected.