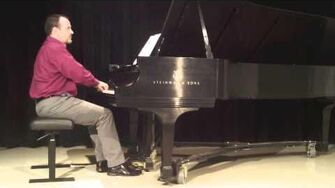 Chee-Hwa Tan perfectly captures the emotions associated with passing through a dimly-lit passage. In D minor position, the hands rarely have to move. However, the right hand needs to be competent at playing in bass and treble clef. Students can have fun making the ending dramatic. One should remain attentive during the climactic rests, considering them to be part of the music. The final fortissimo ought to be quite startling.  
Composer/Publisher Information
Edit
Complete bio can be found at http://www.frederickharrismusic.com/FHMCsite/capricorn?para=showPage&docId=authors&section=**
Through the Windowpane is available through The Frederick Harris Music Co., Limited, 2005
Caroline Krause, Iowa Center for Research by Undergraduates Fellow
Ad blocker interference detected!
Wikia is a free-to-use site that makes money from advertising. We have a modified experience for viewers using ad blockers

Wikia is not accessible if you've made further modifications. Remove the custom ad blocker rule(s) and the page will load as expected.