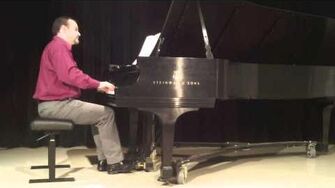 Light-heartedness fills this gentle piece. A simple melody soars over a two-note slur accompaniment pattern. Since the texture in the left hand is thicker than the melody, it easily becomes overpowering. Students should strive to keep the melody as legato as possible. A few hand position changes and hand crossings can be a bit challenging.
Composer/Publisher Information
Edit
Complete bio can be found at http://www.frederickharrismusic.com/FHMCsite/capricorn?para=showPage&docId=authors&section=**
Through the Windowpane is available through The Frederick Harris Music Co., Limited, 2005
Caroline Krause, Iowa Center for Research by Undergraduates Fellow
Ad blocker interference detected!
Wikia is a free-to-use site that makes money from advertising. We have a modified experience for viewers using ad blockers

Wikia is not accessible if you've made further modifications. Remove the custom ad blocker rule(s) and the page will load as expected.