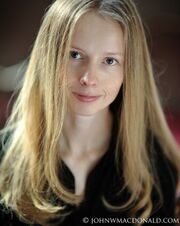 One can imagine pirates at sea singing this tune. Both hands start out with the melody, firmly establishing the pitches and rhythms for the rest of the piece. Then, the left hand has a chance to shine since it takes the melody and the right hand simply has open fifths. A strong pulse and lilting feel gives the piece a spacious, adventurous character. The accompaniment should be played solidly since the melody easily comes through. Not many dynamic suggestions are given, so teachers may wish to mark more changes.
Caroline Krause, Iowa Center for Research by Undergraduates Fellow
https://www.youtube.com/watch?v=NtreqQVIqiQ&index=7&list=PLCAD81110B1AC8955
Ad blocker interference detected!
Wikia is a free-to-use site that makes money from advertising. We have a modified experience for viewers using ad blockers

Wikia is not accessible if you've made further modifications. Remove the custom ad blocker rule(s) and the page will load as expected.