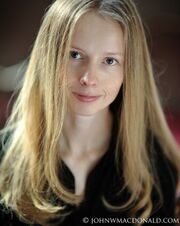 "The Enchanted Palace" offers a stark contrast from the preceding piece in the Legends & Lore collection. It is calm and reposed, with a sense of mystery. The right hand often presents the melody before being joined by the left hand accompaniment. These moments with sparse textures give a sense of solitude. The hands change positions frequently, and some of the finger crossings may be difficult for students. Teachers may want to suggest fingering for the left hand, especially when it moves. This is a good piece for working on creating long melodic lines.
Caroline Krause, Iowa Center for Research by Undergraduates Fellow
https://www.youtube.com/watch?v=GLi1JBMwQ-8&index=2&list=PLCAD81110B1AC8955
Ad blocker interference detected!
Wikia is a free-to-use site that makes money from advertising. We have a modified experience for viewers using ad blockers

Wikia is not accessible if you've made further modifications. Remove the custom ad blocker rule(s) and the page will load as expected.