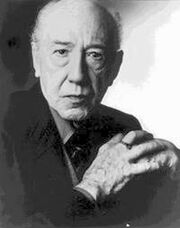 Resolute and cheerful, this march is readily accessible for students. The level of difficulty remains the same, except for a two-measure passage that can made easier by practicing the hands seperately. The tempo marking is Alla marcia, which means that it is so be played in a march-like style with accents on the first beat. Diamond writes in the accents and sometimes even adds sf markings. The hands are often in parallel motion, and they shift positions often. A steady tempo is especially important in this piece.  
Caroline Krause, Iowa Center for Research by Undergraduates Fellow
http://www.youtube.com/watch?v=RavlbIVWl_s&list=PL2BX2wJ-lJxhSoU4BUrVaLHgpZDH8rKNR&index=1
Ad blocker interference detected!
Wikia is a free-to-use site that makes money from advertising. We have a modified experience for viewers using ad blockers

Wikia is not accessible if you've made further modifications. Remove the custom ad blocker rule(s) and the page will load as expected.