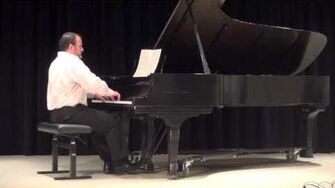 "Allegro vivace" is besides Cossack Dance the most difficult piece of the set. It features fast parallel blocked thirds, both in staccato and legato.  Further difficulties include some surprising rhythmic shifts, quick pedal changes, and speedy LH broken 5ths in staccato articulation. If the young pianist masters this composition, he/she will have a great recital/competition piece!
Composer/Publisher Information
Edit
Biographical Information(Composer Website)
"Jubilant Sounds" can be purchased here
Dr. Alan Huckleberry, Associate Professor of Piano Pedagogy, The University of Iowa School of Music
Ad blocker interference detected!
Wikia is a free-to-use site that makes money from advertising. We have a modified experience for viewers using ad blockers

Wikia is not accessible if you've made further modifications. Remove the custom ad blocker rule(s) and the page will load as expected.