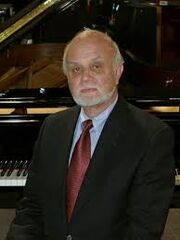 This fast paced bourree is filled with wonderful technical challenges for the upcoming pianist. The pulsating rhythm is first achieved by running eighth notes in the left hand which accompany the right hand melody, but then switches so both hands can work on softening the repeated notes and creating a murmuring accompaniment. In this rounded binary form, the texture changes with the B section, allowing for different techniques and phrasing.
This piece is from the collection "Lady Margaret's Suite - 8 Intermediate Piano Solos in the Style of J.S. Bach", Alfred Publishing Co., INC., 1994
Heidi Worsham, masters piano student, The University of Iowa
Ad blocker interference detected!
Wikia is a free-to-use site that makes money from advertising. We have a modified experience for viewers using ad blockers

Wikia is not accessible if you've made further modifications. Remove the custom ad blocker rule(s) and the page will load as expected.