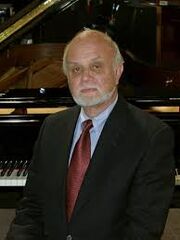 Lady Margaret's Gavotte provides the student with the challenge of creating two independent lines with the right and left hand. Articulation plays a key role here and the student must work hard to listen to the phrasing of both hands. Scalar passages are found throughout this bouncy Baroque piece.
This piece is from the collection "Lady Margaret's Suite - 8 Intermediate Piano Solos in the Style of J.S. Bach", Alfred Publishing Co., INC., 1994
Heidi Worsham, master piano student, The University of Iowa
Ad blocker interference detected!
Wikia is a free-to-use site that makes money from advertising. We have a modified experience for viewers using ad blockers

Wikia is not accessible if you've made further modifications. Remove the custom ad blocker rule(s) and the page will load as expected.