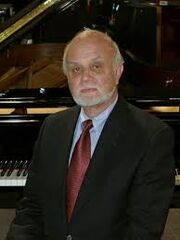 Thoughtful and artistic, Morning Dew has a lovely melody that flows over the accompaniment of open fifths. The melody offers a good opportunity to practice playing extremely legato. Some of the written dynamics create an echo effect and should be followed closely. The change in dynamics will also keep the melody from sounding monotonous since the material is fairly repetitive. The tempo indicated is moderate and accessible to many students. This piece is calm and peaceful from start to finish. 
Caroline Krause, Iowa Center for Research by Undergraduates Fellow
Ad blocker interference detected!
Wikia is a free-to-use site that makes money from advertising. We have a modified experience for viewers using ad blockers

Wikia is not accessible if you've made further modifications. Remove the custom ad blocker rule(s) and the page will load as expected.