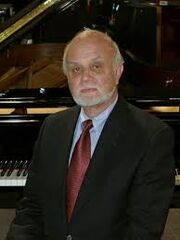 Full of fun rhythms and dramatic rests, this piece certainly has a Spanish flair! A guitar-like motive begins the piece. Some students may have trouble executing some of the rhythm patterns, but they repeat often and are simple once understood. The articulation is extremely in important in Spanish Guitars. A staccato guitar accompaniment offers a sharp contrast to the more melodious right hand. The middle section also provides contrast with the introduction of thirds in the melody. Students will have fun playing this upbeat, attractive piece.
Caroline Krause, Iowa Center for Research by Undergraduates
Ad blocker interference detected!
Wikia is a free-to-use site that makes money from advertising. We have a modified experience for viewers using ad blockers

Wikia is not accessible if you've made further modifications. Remove the custom ad blocker rule(s) and the page will load as expected.