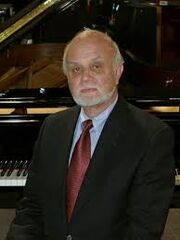 This majestic piece captures the grandeur of gigantic trees. The accompaniment provides a solid base for the moving sixths and chords in the right hand. The tops of the chords should be voiced well. Following the indicated pedaling will help to create a smoother line. A flowing middle section creates a nice change from the chordal sections. Students need to be comfortable with hand crossing in this part. Bold dynamic contrasts increase the drama.
Caroline Krause, Iowa Center for Research by Undergraduates Fellow
Ad blocker interference detected!
Wikia is a free-to-use site that makes money from advertising. We have a modified experience for viewers using ad blockers

Wikia is not accessible if you've made further modifications. Remove the custom ad blocker rule(s) and the page will load as expected.