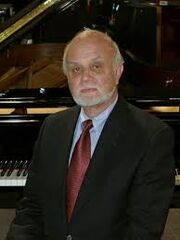 This piece lingers on tied notes, allowing time for reflection and giving thanks, similar to activities at a Thanksgiving dinner. Due to the slow tempo marking, it can be difficult to create a long melodic line. Playing the thirds legato, following dynamic markings, and using pedal will help with this. The left hand is quite simple overall, though it crosses over the right hand occasionally. Since one of the important aspects of this piece is to create a prayerful mood, it may take a mature student to be able to convey this. 
Caroline Krause, Iowa Cetner for Research by Undergraduates Fellow
Ad blocker interference detected!
Wikia is a free-to-use site that makes money from advertising. We have a modified experience for viewers using ad blockers

Wikia is not accessible if you've made further modifications. Remove the custom ad blocker rule(s) and the page will load as expected.