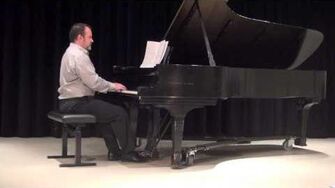 "In a Wiggly Mood" is a fun and exciting piece written in a modified G major position, with C-sharps and A-sharps strewn in throughout.  These accidentals are what make this piece so "wiggly".  The student must weave in and out of the black keys at a quick tempo. It thus makes this piece and excellent one with which to teach the concept of moving in and out of the keys.
Composer/Publisher Information
Edit
Biographical Information (Composer's website)
My World in Motion, Book 2 and other works by Greenleaf can be purchased here
Dr. Alan Huckleberry, Associate Professor of Piano Pedagogy, The University of Iowa School of Music
Ad blocker interference detected!
Wikia is a free-to-use site that makes money from advertising. We have a modified experience for viewers using ad blockers

Wikia is not accessible if you've made further modifications. Remove the custom ad blocker rule(s) and the page will load as expected.