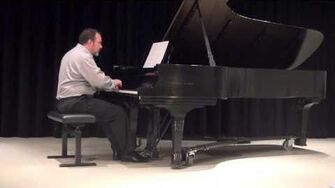 "The Big Parade" is a great first supplemental piece for students who are comfortable in C-major 5-finger position. They will explore various articulations, blocked intervals (2nds, 3rds, and 5ths).  Another great feature of this piece is the LH melody in the B section. This is often neglected so that this is an excellent opportunity to work on this aspect of musicianship.
Students will also need to have a sense of a steady beat, as well as a wide range of dynamic contrast.
Composer/Publisher Information
Edit
Biographical Information (Composer's website)
My World in Motion, Book 2 and other works by Greenleaf can be purchased here
Dr. Alan Huckleberry, Associate Professor of Piano Pedagogy, The University of Iowa School of Music
Ad blocker interference detected!
Wikia is a free-to-use site that makes money from advertising. We have a modified experience for viewers using ad blockers

Wikia is not accessible if you've made further modifications. Remove the custom ad blocker rule(s) and the page will load as expected.