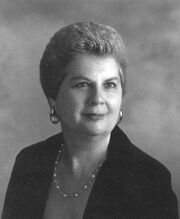 Solid and broken fifths take center stage in this short work. One should pick a flowing tempo so that the piece does not become static. Students will encounter various articulation markings, which are important for adding variety as well as capturing the piece's character. Elvina Pearce includes a D.C. al Coda marking, the meaning of which teachers may have to explain. Students should follow the pedal markings, though they can be a bit difficult to interpret.
Composer Information
Edit
Complete bio can be found at http://www.claviercompanion.com/Larger/Pearce.html
Caroline Krause, Iowa Center for Research by Undergraduates Fellow
Ad blocker interference detected!
Wikia is a free-to-use site that makes money from advertising. We have a modified experience for viewers using ad blockers

Wikia is not accessible if you've made further modifications. Remove the custom ad blocker rule(s) and the page will load as expected.