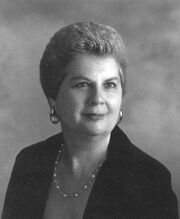 This Blues provides a great introduction to the 12-bar blues pattern.  The composer also cleverly uses the 6/4 time signature to create a way to notate the swing rhythm. 
This piece is a lot of fun to play, as students get to move around the keyboard in the blue pattern with a variety of articulations.
Composer/Publisher Information
Edit
Elvina Pearce studied piano in NYC with Isabelle Vengerova (whose students included Samuel Barber, Gary Graffman and Leonard Bernstein). Her concert career is highlighted by a solo appearance with the Chicago Symphony and recitals at Carnegie Recital Hall in New York, and the National Gallery of Art in Washington, D.C. Elvina was a long-time pedagogy student of Frances Clark in Princeton, NJ where she served on the piano faculty of Westminster Choir College, and was also one of the founding faculty members of the New School for Music Study and the Frances Clark Center for Keyboard Pedagogy. Upon moving to the Midwest, for 14 years she taught piano and pedagogy and directed the Preparatory Piano Division at Northwestern University. As a resident of the western Chicago suburb of Naperville, she also taught at North Central College where she founded and directed its Division of Preparatory and Community Music. From 2000-2006, Elvina was Editor-in-Chief of Keyboard Companion Magazine. She has presented workshops, master classes, and recitals in more than 40 states as well as in Canada, the Republic of China, and Australia, and has also received national recognition as a composer of educational piano pieces.
In 2008, Elvina was named as an MTNA Foundation Fellow, and in 2011, she was awarded a Lifetime Achievement Award by The National Conference on Keyboard Pedagogy in recognition of her more than a half a century of dedicated service to music- teaching and music- making. In the Spring of 2014, she will be inducted into the Fox Valley Arts Hall of Fame which publicly recognizes individuals who have received national/international acclaim for their achievements in the arts.    
First Impressions is available through the Alfred Publishing Company, 2003
http://www.alfred.com/search/searchresults.aspx?q=Elvina%20Pearce%20First%20Impressions&type=All
Dr. Alan Huckleberry, Associate Professor of Piano Pedagogy, The University of Iowa School of Music
Ad blocker interference detected!
Wikia is a free-to-use site that makes money from advertising. We have a modified experience for viewers using ad blockers

Wikia is not accessible if you've made further modifications. Remove the custom ad blocker rule(s) and the page will load as expected.