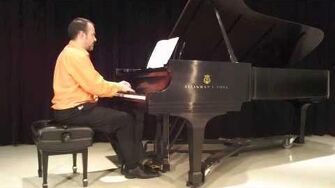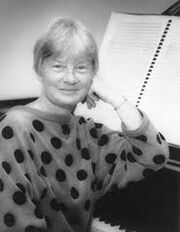 Students will have a lot of fun with this piece. Hand clapping often replaces notes, giving the piece an extremely rhythmic feel. Diemer uses a pentatonic scale which includes only the black keys. Though students initially may find the six flats in the key signature intimidating, they will soon discover that the hand position is quite comfortable and accessible. Keeping the staccatos crisp helps keep this work energetic.
Composer/Publisher Information
Edit
Complete bio can be found at http://www.fjhmusic.com/composer/ediemer.htm
Reaching Out, for Solo Piano is available through The FJH Music Company INC, 2004.
http://www.fjhmusic.com/piano/contemp_int.htm
Caroline Krause, Iowa Center for Research by Undergraduates Fellow
Ad blocker interference detected!
Wikia is a free-to-use site that makes money from advertising. We have a modified experience for viewers using ad blockers

Wikia is not accessible if you've made further modifications. Remove the custom ad blocker rule(s) and the page will load as expected.