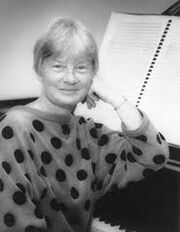 "Busy Toccata" gives no opportunity for taking a break. Students will love playing this high-energy, spirited toccata. Strong technical skills are needed for being successful with the rapid legato and staccato sixteenth notes as well as for correctly playing the tricky rhythms. Teachers should make sure that students pick a tempo where they can play evenly and brilliantly. The articulation and numerous accidentals can be challenging. However, any extra work needed for this piece is worth it due to its exciting character and pedagogical value.
Composer/Publisher Information
Edit
Complete bio can be found at http://www.fjhmusic.com/composer/ediemer.htm
Reaching Out, for Solo Piano is available through The FJH Music Company INC, 2004.
http://www.fjhmusic.com/piano/contemp_int.htm
Caroline Krause, Iowa Center for Research by Undergraduates Fellow
Ad blocker interference detected!
Wikia is a free-to-use site that makes money from advertising. We have a modified experience for viewers using ad blockers

Wikia is not accessible if you've made further modifications. Remove the custom ad blocker rule(s) and the page will load as expected.