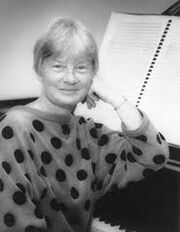 This is a great piece for introducing extended piano techniques. Students are asked to dampen strings with their hands by reaching in the piano. However, this will only work with a grand piano, and younger pianists may not be able to simultaneously reach inside the piano with their left hand and play the melody with the right hand. Many students, though, will have fun experimenting with different sounds at the piano. Other aspects of this piece include moving hand positions frequently and being able to play at an especially soft dynamic level.
Composer/Publisher Information
Edit
Complete bio can be found at http://www.fjhmusic.com/composer/ediemer.htm
Reaching Out, for Solo Piano is available through The FJH Music Company INC, 2004.
http://www.fjhmusic.com/piano/contemp_int.htm
Caroline Krause, Iowa Center for Research by Undergraduates Fellow
Ad blocker interference detected!
Wikia is a free-to-use site that makes money from advertising. We have a modified experience for viewers using ad blockers

Wikia is not accessible if you've made further modifications. Remove the custom ad blocker rule(s) and the page will load as expected.