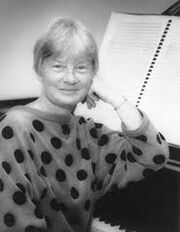 Though short, "Reaching Out" still demands skill and concentration from the performer. Creating a thoughtful mood is one of the most important aspects of the piece. Students can do this by producing a warm, rich sound and by staying within the given dynamic levels. Also, listening carefully to phrases and long-held notes adds even more depth to the piece.
Composer/Publisher Information
Edit
Complete bio can be found at http://www.fjhmusic.com/composer/ediemer.htm
Reaching Out, for Solo Piano is available through The FJH Music Company INC, 2004.
http://www.fjhmusic.com/piano/contemp_int.htm
Caroline Krause, Iowa Center for Research by Undergraduates Fellow
Ad blocker interference detected!
Wikia is a free-to-use site that makes money from advertising. We have a modified experience for viewers using ad blockers

Wikia is not accessible if you've made further modifications. Remove the custom ad blocker rule(s) and the page will load as expected.