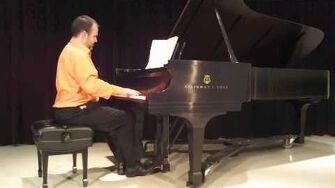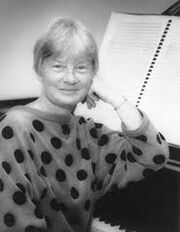 "Remembering" has a slow, manageable tempo, but still has numerous difficulties. First, the texture is extremely thick and is peppered with numerous ties as well as grace notes. Second, the time signature is continuously alternating among 5/4, 6/4, and 3/4, making it difficult to always keep a strong pulse and steady tempo. Additionally, there is a section of the piece that includes legato octaves in the melody, so students with small hands will find the piece challenging. Despite all of these aspects, students should be sure to voice the melody well and create a peaceful mood. This piece requires emotional maturity in order to make a performance effective.
Composer/Publisher Information
Edit
Complete bio can be found at http://www.fjhmusic.com/composer/ediemer.htm
Reaching Out, for Solo Piano is available through The FJH Music Company INC, 2004.
http://www.fjhmusic.com/piano/contemp_int.htm
Caroline Krause, Iowa Center for Research by Undergraduates Fellow
Ad blocker interference detected!
Wikia is a free-to-use site that makes money from advertising. We have a modified experience for viewers using ad blockers

Wikia is not accessible if you've made further modifications. Remove the custom ad blocker rule(s) and the page will load as expected.