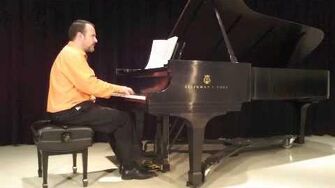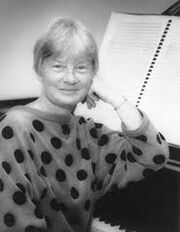 This work certainly has a playful character. Animated rhythms and charming groups of three notes abound. Sudden, frequent rests give the piece its jovial, light-hearted sound. Detail is important in "Teasing." For example, accents, slurs, and detailed dynamic markings all add to its personality. Students may find some of the passage work to be technically difficult, but the excitement in this piece makes the extra work worth it.
Composer/Publisher Information
Edit
Complete bio can be found at http://www.fjhmusic.com/composer/ediemer.htm
Reaching Out, for Solo Piano is available through The FJH Music Company INC, 2004.
http://www.fjhmusic.com/piano/contemp_int.htm
Caroline Krause, Iowa Center for Research by Undergraduates Fellow
Ad blocker interference detected!
Wikia is a free-to-use site that makes money from advertising. We have a modified experience for viewers using ad blockers

Wikia is not accessible if you've made further modifications. Remove the custom ad blocker rule(s) and the page will load as expected.