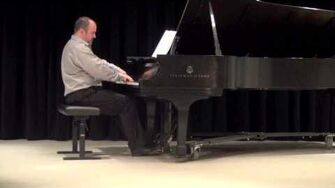 "Peasant Song" is a nice choice for advancing pianists. The texture is thick, making good voicing a necessity. Students may find the constant changes in hand positions to be challenging. Despite the frequent movement, they should still aim for a legato touch. Observation of articulation and dynamics are two other important elements. Additionally, the phrasing needs to be clear and match with the contour of each line.
Caroline Krause, Iowa Center for Research by Undergraduates Fellow
Ad blocker interference detected!
Wikia is a free-to-use site that makes money from advertising. We have a modified experience for viewers using ad blockers

Wikia is not accessible if you've made further modifications. Remove the custom ad blocker rule(s) and the page will load as expected.