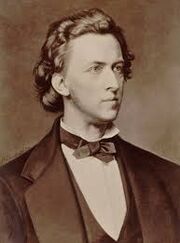 This piece has a clear phrase structure with endings marked by cadences. Be sure to maintain a supple wrist during the tremolos in the left hand and pay attention to executing clear dotted rhythm throughout. Large chords require good voicing. This piece in E-flat Major remains optimistic despite the slow, thick chord texture. Students may consider playing the second phrase as a dramatic echo of the first phrase.
Caroline Krause, undergraduate piano major, The University of Iowa
Ad blocker interference detected!
Wikia is a free-to-use site that makes money from advertising. We have a modified experience for viewers using ad blockers

Wikia is not accessible if you've made further modifications. Remove the custom ad blocker rule(s) and the page will load as expected.