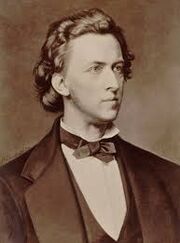 Chopin composed the Polonaise in g minor op. posth. when he was only seven years old and his father published it after Chopin died. Even though Chopin was just a child when he composed this polonaise, it has everything one can expect from a true piano piece; fast arpeggios with crossing hands, Alberti bass, melodies with crossed hands, grace notes, arpeggios, and major jumps. The student playing this Polonaise must also pay attention to the cantabile character of the melody, and the phrasing.
Gustavo do Carmo, Masters Piano Student, The University of Iowa
Ad blocker interference detected!
Wikia is a free-to-use site that makes money from advertising. We have a modified experience for viewers using ad blockers

Wikia is not accessible if you've made further modifications. Remove the custom ad blocker rule(s) and the page will load as expected.