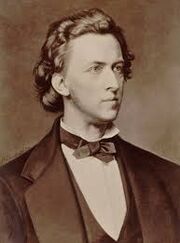 In this prelude, Chopin offers the performer a melancholy melodic line accompanied by solid chords in the left hand. Students should be aware of the dramatic climax towards the end of the piece and chose appropriate proceeding dynamics. Large chords in the final measures make the prelude a challenge for smaller hands. One instance of a quick, ornamentation-like burst in the melody adds variety to the simple melody. A quiet, intense ending concludes the piece.
Caroline Krause, undergraduate piano major, The University of Iowa
Ad blocker interference detected!
Wikia is a free-to-use site that makes money from advertising. We have a modified experience for viewers using ad blockers

Wikia is not accessible if you've made further modifications. Remove the custom ad blocker rule(s) and the page will load as expected.