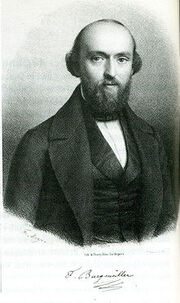 As one of the most popular choices for beginning pianists, this piece has a lot of pedagogical value. Originally meant to emulate the numerous ornaments in Arabic music, arabesques are quite embellished. This piece certainly has its fair share of decorations. Sixteenth notes occur in abundance, decorating the harmonies.
There must be clarity, evenness, and accuracy in both hands, which can be difficult because of the numerous hand position changes. Students will have fun with this piece, which needs to have a fast tempo and a vibrant character.
Caroline Krause, Iowa Center for Research by Undergraduates Fellow
Ad blocker interference detected!
Wikia is a free-to-use site that makes money from advertising. We have a modified experience for viewers using ad blockers

Wikia is not accessible if you've made further modifications. Remove the custom ad blocker rule(s) and the page will load as expected.