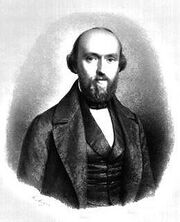 This is a jolly piece in C major. As the title implies, this piece has a lot of jumping around in hand positions. There are etude-like triplets in the B section. Exciting sixteenth-note scales conclude this creative piece. It may be difficult for some students to accurately maintain the crisp rhythms in this jaunty piece. Students should maintain a melodic line through the staccato chords. This piece prepares pianists for Czerny's School of Velocity, Op. 299 since there are many similar scale passages.
Caroline Krause, undergraduate piano major, The University of Iowa
Ad blocker interference detected!
Wikia is a free-to-use site that makes money from advertising. We have a modified experience for viewers using ad blockers

Wikia is not accessible if you've made further modifications. Remove the custom ad blocker rule(s) and the page will load as expected.