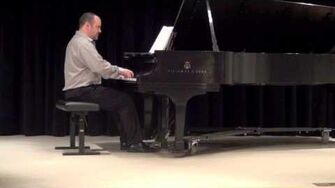 This cheery dance has a vibrant melody and engaging harmonies. Articulation is equally important in the melody and accompaniment lines. Practicing the hands alone will give students a chance to make conscious decisions regarding phrasing and articulation in both hands. Since the hands change positions frequently, students should already have some experience with moving around the keyboard before attempting this piece.
Caroline Krause, Iowa Center for Research by Undergraduates Fellow
Ad blocker interference detected!
Wikia is a free-to-use site that makes money from advertising. We have a modified experience for viewers using ad blockers

Wikia is not accessible if you've made further modifications. Remove the custom ad blocker rule(s) and the page will load as expected.