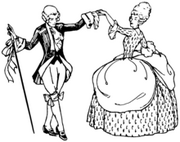 A main feature of Stolzel's Minuet in g minor is the rolled chords, which both begin and end the piece. Students should take care to voice the top note of these chords. They should be played with power and confidence. A compound eighth-note melody in the right hand will require extra practice to bring out the melody notes. Teachers should take advantage of the opportunity to talk about the minuet as a dance-derived form and what influence this has on the character of the piece. 
Jennifer Brooke, undergraduate piano major, The University of Iowa
Ad blocker interference detected!
Wikia is a free-to-use site that makes money from advertising. We have a modified experience for viewers using ad blockers

Wikia is not accessible if you've made further modifications. Remove the custom ad blocker rule(s) and the page will load as expected.