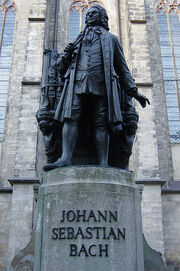 This Little Prelude in C major is an excellent piece with which to introduce counterpuntal playing.  Both hands/voices get a turn having the lead and being the accompaniment. The left hand also features some typical baroque ornaments, again a great introduction to this style of playing.  Be sure not to start the piece too fast, as a quick and tricky little sixteenth note passage appears shortly before the end of this short piece.  This could be a pitfall, if the correct tempo is not chosen from the onset.
Dr. Alan Huckleberry, associate professor of piano, The University of Iowa
Ad blocker interference detected!
Wikia is a free-to-use site that makes money from advertising. We have a modified experience for viewers using ad blockers

Wikia is not accessible if you've made further modifications. Remove the custom ad blocker rule(s) and the page will load as expected.