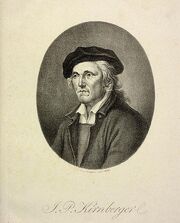 Tambourin refers to an old French drum as well as music, which imitates that drum through repeated bass figurations. This piece is an ABA form. Students need to have a strong sense of pulse. This pulse is challenged through constant sixteenth note passagework (scalar and arpeggiated) in the right hand. Finding a good fingering will be the first order of business to secure a good performance.
Korak Lertpibulchai, Doctoral Piano Student, The University of Iowa
Ad blocker interference detected!
Wikia is a free-to-use site that makes money from advertising. We have a modified experience for viewers using ad blockers

Wikia is not accessible if you've made further modifications. Remove the custom ad blocker rule(s) and the page will load as expected.