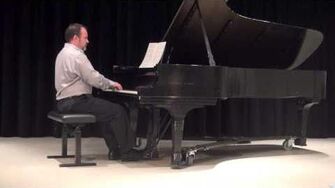 One of the easier pieces of this set, "Round Dance" features an ostinato fifth accompaniment, with a melody in RH which remains in C five-finger position throughout. The student will need to be aware of the balance between the hands, as the fifths can potentially become too heavy.
Composer/Publisher Information
Edit
Joyce Grill, a former faculty member at the University of Wisconsin-La Crosse, provides practical suggestions from her extensive teaching experience as she presents workshops to teachers and students across the country. Grill holds the MTNA Master Teacher Certificate and has been active in MTNA serving as the Wisconsin State President and the Division Vice-President. She also founded the La Crosse Area Music Teachers Association and serves on several arts advisory boards. In 2006, she was named a MTNA Foundation Fellow.
Grill holds degrees from the University of Wisconsin-Madison and has also received training at the School of Fine Arts in Fontainebleau, France, where she studied theory and composition with Nadia Boulanger and piano with Robert and Jean Casadesus.
Known for her ensemble writing, Grill is also a frequent guest conductor for multi-piano concerts. Some of her best-known publications originally published by Warner Bros. Publications, including In Style, Down the Road, and Accompanist (Yes, It Really Happens), are now available from Alfred Music Publishing.
Country Scenes is available through Alfred Music Publishing.
Dr. Alan Huckleberry, Associate Professor of Piano Pedagogy, The University of Iowa School of Music
Ad blocker interference detected!
Wikia is a free-to-use site that makes money from advertising. We have a modified experience for viewers using ad blockers

Wikia is not accessible if you've made further modifications. Remove the custom ad blocker rule(s) and the page will load as expected.