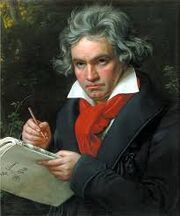 This Sonatina in G by Beethoven is a lovely example of a classical style piece for early intermediate students.  It is a good piece to explore the lightness in touch demanded by composers from this era.  This can particularly be seen in the grace notes and two-note slurs of the melody.  The left hand has a few passages in Alberti bass, which provides a good opportunity to discuss this standard Classical era accompaniment pattern with your student.
Gustavo J. do Carmo, masters piano student, The University of Iowa
Dr. Alan Huckleberry, professor of piano, The University of Iowa
Ad blocker interference detected!
Wikia is a free-to-use site that makes money from advertising. We have a modified experience for viewers using ad blockers

Wikia is not accessible if you've made further modifications. Remove the custom ad blocker rule(s) and the page will load as expected.