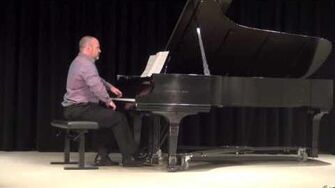 "Fiesta Time" is this author's favorite one of the set.  It is exciting, has a wonderful atmosphere, great opportunity for rubato and expression. There is pianistic flair and a quasi-improvisatory section. Students can explore Spanish styles, harmonies, and rhythms. Overall simply a great performance/competition piece!
Composer/Publisher Information
Edit
Center Stage (Book 2) can be purchased here
Dr. Alan Huckleberry, Associate Professor of Piano Pedagogy, The University of Iowa School of Music www.alanhuckleberry.com
Ad blocker interference detected!
Wikia is a free-to-use site that makes money from advertising. We have a modified experience for viewers using ad blockers

Wikia is not accessible if you've made further modifications. Remove the custom ad blocker rule(s) and the page will load as expected.