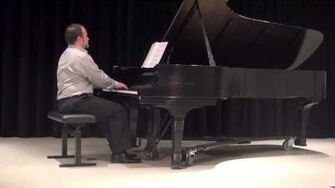 This delightful and descriptive piece will engage the student with a variety of dynamics and articulations. The LH accompaniment clearly shows the trotting of a horse. The B section is a fun modulation (down one half-step), which gives every note a flat. While this might seem difficult to read, it would be great to use this as an opportunity to introduce the concepts of modulation and sequence.
Composer/Publisher Information
Edit
Just Imagine, Book 2 can be purchased here
Dr. Alan Huckleberry, Associate Professor of Piano Pedagogy, The University of Iowa School of Music
Ad blocker interference detected!
Wikia is a free-to-use site that makes money from advertising. We have a modified experience for viewers using ad blockers

Wikia is not accessible if you've made further modifications. Remove the custom ad blocker rule(s) and the page will load as expected.