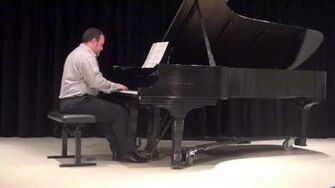 "Hamster Chase" is a fun, quick piece in d minor, which works on even passagework, mainly in the right hand. At the very end, both hands play fast five finger patterns in unison at the octave.
This piece also requires some quick changes in hand positions.  Therefore the student needs to be comfortable doing so before tackling this piece.
Composer/Publisher Information
Edit
Just Imagine, Book 2 can be purchased here
Dr. Alan Huckleberry, Associate Professor of Piano Pedagogy, The University of Iowa School of Music
Ad blocker interference detected!
Wikia is a free-to-use site that makes money from advertising. We have a modified experience for viewers using ad blockers

Wikia is not accessible if you've made further modifications. Remove the custom ad blocker rule(s) and the page will load as expected.