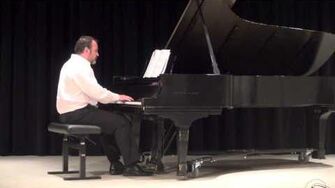 "Sophisticated Rag" is a clever little piece. It has an interesting descending bass line, which gives musical direction. The melody is as elegant as the title implies.  It is important not to swing the melody. (And the composer does not indicate to do so!) This type of a rag is laid back and cool! The young pianist needs to enjoy the sycompations and the wdie range of dynamics!
Composer/Publisher Information
Edit
Musical Snapshots can be purchased here
Dr. Alan Huckleberry, Associate Professor of Piano Pedagogy, The University of Iowa School of Music
Ad blocker interference detected!
Wikia is a free-to-use site that makes money from advertising. We have a modified experience for viewers using ad blockers

Wikia is not accessible if you've made further modifications. Remove the custom ad blocker rule(s) and the page will load as expected.