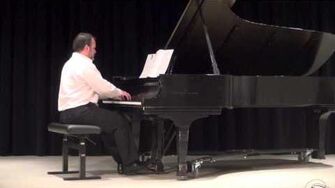 Nestled within this set are two suites consisting of three pieces each.  The first suite is the "Australian Suite" and is started off with "Daintree River Crocodiles". The image of the crocs lurking in the muddy waters is musically represented by mysterious open fifth half-step motions in the bass. Young pianists will need a good sense of legato, pedal, and phrasing to successfully perform this piece.
Composer/Publisher Information
Edit
Musical Snapshots can be purchased here
Dr. Alan Huckleberry, Associate Professor of Piano Pedagogy, The University of Iowa School of Music
Ad blocker interference detected!
Wikia is a free-to-use site that makes money from advertising. We have a modified experience for viewers using ad blockers

Wikia is not accessible if you've made further modifications. Remove the custom ad blocker rule(s) and the page will load as expected.