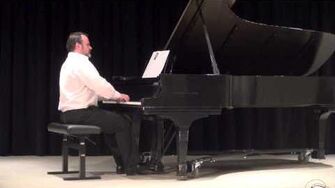 This set begins with a beautiful and simple piece in a minor. The RH melody sings an almost melancholy song over a broken chord accompaniment.  The harmonies are focussed around i and V. Students will have pay close attention to the phrasing, as well as the balance between the hands.
Composer/Publisher Information
Edit
Musical Snapshots can be purchased here
Dr. Alan Huckleberry, Associate Professor of Piano Pedagogy, The University of Iowa School of Music
Ad blocker interference detected!
Wikia is a free-to-use site that makes money from advertising. We have a modified experience for viewers using ad blockers

Wikia is not accessible if you've made further modifications. Remove the custom ad blocker rule(s) and the page will load as expected.