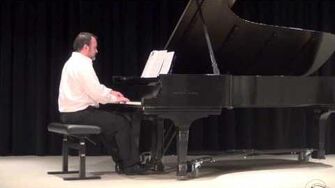 "España" portrays a proud, festive Spanish dance, with a typical stepwise descending chord progression. The a-minor melody is characterized by dotted rhythms, so that this could be a first supplemental piece with which to practice that rhythmic device.
Composer/Publisher Information
Edit
Musical Snapshots can be purchased here
Dr. Alan Huckleberry, Associate Professor of Piano Pedagogy, The University of Iowa School of Music
Ad blocker interference detected!
Wikia is a free-to-use site that makes money from advertising. We have a modified experience for viewers using ad blockers

Wikia is not accessible if you've made further modifications. Remove the custom ad blocker rule(s) and the page will load as expected.