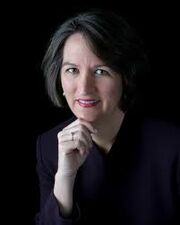 The subtitle "Harp Song" provides appropriate imagery to the contemplative arpeggiation and scalar passages of
Cathedral Echoes
. Students can imagine brushing the strings of the piano like a harp as they play this flowing piece. Challenges come in the form of changing clefs in both hands, uncommon chords scattered with accidentals, and changing tempi. Markings such as "freely," and "with expression" invite exploration of rubato.
Jennifer Brooke, undergraduate piano major, The University of Iowa
Ad blocker interference detected!
Wikia is a free-to-use site that makes money from advertising. We have a modified experience for viewers using ad blockers

Wikia is not accessible if you've made further modifications. Remove the custom ad blocker rule(s) and the page will load as expected.